ABOUT C.B.A.
Discover how we started and why we're committed to
impacting the Christian business community.
DOWNLOAD YOUR Business Growth Kit Supercharge your sales and marketing now!
Are You Looking To Grow Your Business
Without Compromising Your Faith?
If so, you're in the right place. The truth is you're not alone.
If you've been looking for help and support on growing your business to make a bigger impact in your life and the lives of the people you serve, but haven't yet found it, welcome to the Christian Business Academy. You're in the right place.
Here's the deal…
Tens of thousands of Christian entrepreneurs and business owners find themselves having two areas of their lives they can't seem to merge; being a successful business owner or professional while serving God in their personal lives.
Let me be crystal clear. We were intended to have a higher purpose and calling that applies throughout every area of your life including your business.
It's time to get rid of that confusion and challenge and step into the blessing waiting for you in your God given business.
WELCOME TO THE CHRISTIAN BUSINESS ACADEMY!
Who Are We
The Christian Business Academy is a training and coaching community that serves Christian entrepreneurs and business owners with both spiritual and biblical business principles and practical networking, sales and marketing strategies in order to grow your mission-driven business holistically.
We've found many destinations that either focus exclusively on the the spiritual part of a business owner's life but not how to effectively integrate their faith in business OR we're found "christian" business coaching and training companies that focus on the practical application of marketing, sales, systems and yet offer very little spiritual growth.
Our goal is to provide you with the support and community to grow in both faith and business skills to live out your calling in the marketplace.
We believe that in helping you grow your business, your capacity to serve your mission and community increases, and we all win more lives to Christ.
What We're Here To Do
Our mission is to help business owners, entrepreneurs and solo professionals become more profitable and purposeful and achieve personal, relational, spiritual, and financial freedom.
How we're committed to transforming businesses:
Reach 10,000 Christian entrepreneurs worldwide and inspire their missional purpose
Create business focused missionary events throughout the world
Strengthening marriages and families by shifting into kingdom business models
Install biblical truths into entrepreneurs so they can place their identity in who God says they are
Here's How The Christian Business Academy Helps You
Get Bigger Results In Life And Business
C.B.A. (Christian Business Academy) was founded to educate and empower Christian entrepreneurs, business owners and professionals to create more fulfilling, profitable and purposeful businesses with a genuine heart to serve people in need around the world while re-igniting hopes and dreams.
Our mission is simple. We provide transformative business coaching and training to Christians in business. 
We show Christian business owners, entrepreneurs and professionals how to discover their God given purpose, engage their passion and create profitable business ventures that support their personal mission in life while having the freedom to invest themselves into their families, friends, loved ones and offer more to their churches and communities using our unique business training and coaching.
Key scripture verse:

Psalm 1:3 – That person is like a tree planted by streams of water, which yields its fruit in season and whose leaf does not wither — whatever they do prospers.
Meet Alex Navas, The Founder Of Christian Business Academy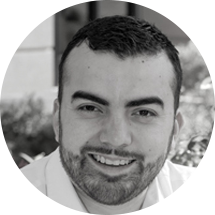 Alex Navas is an accomplished marketing coach and business consultant who helps entrepreneurs, independent professionals and small business owners leverage their expertise to gain more exposure and recognition using the internet as a marketing vehicle.
He is a published author and public speaker in the areas of motivation, sales and marketing and personal success.
Alex's true passion is helping business professionals discover their highest, God breathed purpose in order to live out the lives that they were created to live and use their success to help others achieve an extraordinary life!
He loves spending time enjoying the beauty of life with his amazing wife Josie and his son Christian. Alex also enjoys drinking lattes while reading inspirational, motivational and business books.
Alex also gets his weekly inspiration from serving the Chicago inner city community alongside his wife and son at the Jesus Closet, a clothing pantry offering year round clothing for individuals and families of all sizes and all walks of life.
"I'm completely addicted to inspiring people to break through their boundaries, step into their passion and greatest purpose, and guide them to create an extraordinary life through their business so they can give their clients and their loved ones 100% of themselves while changing the world in amazing ways!"
DOWNLOAD YOUR Business Growth Kit Supercharge your sales and marketing now!